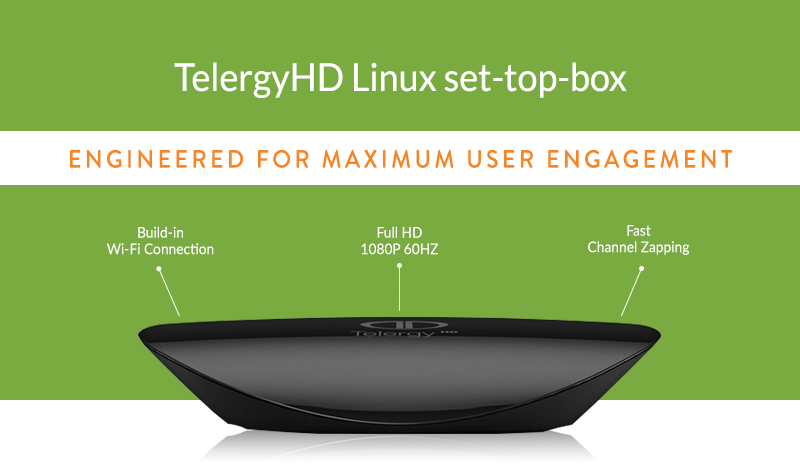 Undeniably, the THD504L is a Linux based set-top box which is used in increasing array of devices. It has enhanced multimedia capabilities that is combined with continuing development and support for advanced hardware and has enabled Linux to be in TVs and set-top boxes.
The THD504L is Linux Set-top box that includes Wi-Fi for the audience with its amazing free services like LiveTV, Radio, Catchup and VoD. It's a completely open-source, open hardware, DVD, streaming video, audio tuners and other features.
How THD504L works in system architecture?
Streaming media is an important feature of the media center experience. There's a substantial range of streaming tools available for Linux and there is a system architecture that tells the whole processing of streaming media in THD504L, it allows various analog and digital video inputs to be decoded and routed into the video input processor component of the CPU, The video data can be alpha-blended while scaled and merged with graphical data from standard frame buffer memory.
There are incalculable advantages for using the THD504L and some are listed below:
LiveTV is one of the greatest advantages as their service providers face new business imperatives. The need for scalability and flexibility requires a dramatic change to approach content distribution while taking care of other factors. 'Mware solution' is a partner of TelergyHD that gives new video services streamed over multiple devices are changing the dynamics of the broadcasting industry. Mainly the Over-the-Top TV service providers deliver high-quality video services to consumers at very cost-effective way. It actually analyzes the video consumption patterns, current and next-generation distribution models to recommend strategies for OTT-TV at best favourable costs.
Full HD Compatibility TelergyHD504L provides full 1080p high definition capabilities through the HDMI standards.
Through TV Content Distribution, video content owners like Mware Solution allows viewers to watch their content on a array of appliances, such as set-top boxes, video game consoles, and Smart TVs.
Zapper: The faster channel changing component enhances the functionality of a linux based set-top box.
HTML 5 based Middleware solution is compatible with Linux OS that has media playback capabilities.
It allows thousands of hours of On-Demand movies & TV shows at the click of your remote!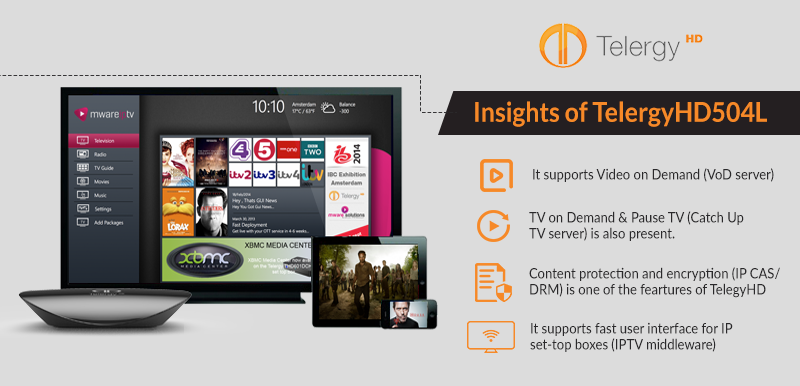 Brief Insights of TelergyHD504L:
It supports Video on Demand (VoD server)
TV on Demand & Pause TV (Catch Up TV server) is also present.
Content protection and encryption (IP CAS/DRM) is one of the feartures of TelegyHD
It supports fast user interface for IP set-top boxes (IPTV middleware)
There is a interactive user interface for streaming live images.
The Mware Solution is a service provider of set-top box that includes software and hardware that forms a scalable IPTV solution for medium and large IPTV installations. All set-top boxes of TelergyHD are compatible with each other that mean the setting up an IPTV service is easy where no additional integration is required. That's why TelergyHD allows setting up a fast Linux based service easily, and without extra expenses on system integration. The modular architecture is supportive to all the set-top boxes and may prompt a change of all functional systems without interruption in being operated software in the network of TelergyHD that describes the service of delivering high-quality video content.